The Solheim Cup player is one of a group of Spanish golfers playing Abama Spa & Resort, Tenerife, on January 13 and 14.
European Solheim Team player, Azahara Muñoz, has joined other top Spanish golf professionals by starting the 2012 season supporting cancer research through her participation in the IV Memorial Pro-Am for the Maria Garcia-Estrada Foundation. The event is taking place at Abama Spa & Resort, Tenerife, on January 13 and 14.
Azahara's repeated success on tour throughout 2011 saw her finish 24th on the LPGA Money List and 39th on the World Ranking. She also played a key role at The Solheim Cup in Ireland, playing in the last singles match on Sunday and winning her point against Angela Stanford of the United States to help earn Europe an historic 15-13 victory.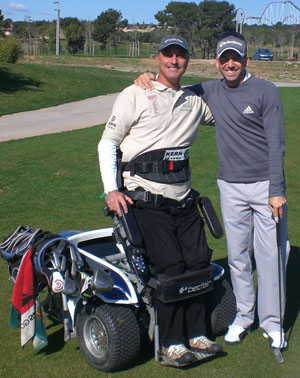 Sergio García with Sebastián Lorente, the European champion of wheelchair golf, who will both be playing in the Pro Am Maria Garcia-Estrada to show their support for cancer research.
Azahara stood out as an amateur from very early on and continued the same path as a professional, winning her first tournament as a professional, the 2009 Madrid Masters on the LET before being awarded LPGA Rookie of the Year in 2010.
Although Azahara's time on the national amateur team did not coincide with that of Maria Garcia-Estrada, they share some of the same titles. Maria Garcia-Estrada won the National Championship as an Under 14 and the Europe Under 18 Championship by teams in 1993 and 1998, while Azahara Muñoz did it in 1999 and 2002 respectively.
The Maria Garcia-Estrada Foundation was created after Maria Garcia-Estrada passed away on September 3, 2005 to sarcoma, a rare and aggressive type of cancer against which she fought tirelessly throughout the last six months of her life.
From an early age Maria's life was linked to golf, a sport in which she attained considerable success in the 1990s. She soon became a promise in this sport, as well as an example to follow for everyone who met her. As a result she was distinguished, posthumously, with the Medal of Merit in Golf by the Real Federacion Española de Golf. The David Leadbetter Academy, from IMG Academies in Florida, where she was given a scholarship to play golf and study through high school, has also honored her with the Maria Garcia-Estrada Award in her memory. In their own words: "This award is given to a graduating senior who exemplifies a great spirit and passion for the game. It is awarded to a student who excels in the classroom as well as on the course."
This Pro-Am makes the efforts against sarcoma cancer by the Maria Garcia-Estrada Foundation possible. The organization is one of the few worldwide to research this rare pathology that represents only 1 per cent of all detected cancers and for which private funds are necessary.
The funds raised through the fourth edition of the Memorial Pro Am Maria Garcia-Estrada will go towards financing the fifth research line that the Foundation has signed with the Cancer Research Center at Salamanca to begin in January 2012 for a length of 3 years and a cost of 104,000 Euros.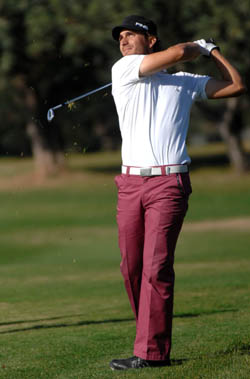 Alejandro Cañizares
The main activity of the event will be the Pro-Am on Saturday 14, which will hold approximately 40 teams of 1 professional and 3 amateurs playing. Surrounding the tournament there are other activities to follow which include a floating green challenge with an exhibition of national and international professionals, as well as a welcoming dinner at the Abama Hotel.
Azahara and Sergio García, the top two Spanish players in the world at present, will give a press conference at Abama Golf on Saturday 14th.
Later both players will participate in the Pro Am along with other stars of Spanish golf as follows:
Sergio García (tee 1, 12:10)
Azahara Muñoz (tee 10, 12:10)
Rafael Cabrera (tee 10, 11:50)
Eduardo de la Riva (tee 1, 11:50)
Alejandro Cañizares (tee 1, 12:20)
Juan Quirós (tee 1, 12:40)