Scotland's Solheim Cup star Catriona Matthew continued her love affair with Killeen Castle as she recorded a one stroke victory in the Ladies Irish Open supported by Fáilte Ireland.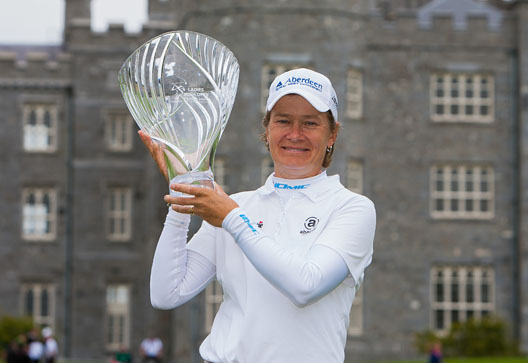 Matthew could afford a bogey five on the final hole to seal the win with a three round total of 209, seven under par, after a second successive round of 71.
Her European Solheim Cup teammate Suzann Pettersen of Norway ended a stroke back after her second straight round of 69, with another Solheim Cup star, Laura Davies, three shots further behind in third.
The finishing holes provided drama in The 2011 Solheim Cup and it again proved the case as Pettersen pushed Matthew all the way on a warm and sunny afternoon mixed with showers in County Meath.
The 2011 event champion, Pettersen, began the final round three shots behind Matthew but was tied for the lead after 15, where she found the bunker left of the green with her second shot but made a crucial birdie putt from 20 feet.
After Matthew birdied the same hole, Pettersen made an eight foot birdie putt on the par-three 16th to stay level with Matthew, but she then dropped a shot on 17 after hitting her second shot into the bunker short of the green and missed a 20-foot putt.
There was a two shot swing when Matthew, playing in the last group behind Pettersen, holed a tricky five-footer to reach eight under with a hole to play.
Pettersen missed her downhill birdie putt on 18 and although Matthew dropped a shot, finding the bunker right, behind the green, two putts were enough to seal the win and the €52,500 first prize.
"I'm absolutely delighted," said Matthew, claiming her fifth victory on the Ladies European Tour and her ninth in total. "It's always difficult going out in the lead. I was just kind of trotting along there at seven under and saw Suzann making some birdies. I think she thought she was in The Solheim Cup again.
"I made a good birdie on 15 and then the one on 17 just gave a little bit of a cushion coming up the last, which was nice. I knew I had a two shot lead and I had seen what Suzann had done on 17 and 18 so I knew she was two behind so I reckoned I could make five from there."
On her love affair with Killeen Castle, where she played a key role in Europe's Solheim Cup victory in September, the World No.27 added: "I think it was always going to be difficult coming back here in a way with so many good memories being here. It could have worked either way but maybe I was a little bit inspired by some of my play from last year in The Solheim Cup."
Pettersen was understandably disappointed with her finish after mounting a superb challenge. After dropping a shot on the sixth hole, she birdied three holes in a row and compensated for a bogey on 10 with a birdie on 13.
"I played good. I made a silly bogey on 17 and had to give it a go. I thought I could hit a very hard sand wedge and it was just a misjudgement of the wind. I made a run at it," said Pettersen, the World No.6.
England's Davies also made a final round charge with a 68 that contained seven birdies and three bogeys, despite suffering from a painful Achilles injury sustained whilst playing football three months ago. It was exacerbated when playing in the charity football match during the Evian Masters, but there will be no time to rest as Davies is teeing up in Toledo on the LPGA next week.
Another Englishwoman, Liz Bennett, was lying in joint third with Davies after 17 holes, but eventually signed for a 74 after slipping back into a share of ninth with four others after taking a costly triple bogey seven at the 18th.
Bennett lost her ball in the water hazard off the tee and then sent her approach shot through the back of the green, but despite that, there will be positives to take away from the tournament. Her putting has improved considerably since she installed a Huxley putting green in her back garden a week ago and will be one to watch at the forthcoming ISPS Handa Ladies British Masters in a fortnight.
England's Curtis Cup winner Charley Hull is another player to watch and she ended in a share of 18th place, taking home the Philomena Garvey trophy as the leading amateur.
Ladies Irish Open supported by Fáilte Ireland
3-5 August, 2012
Killeen Castle, Dunsany, County Meath, Ireland
Final Scores:
209 - Catriona Matthew (SCO) 67 71 71
210 - Suzann Pettersen (NOR) 72 69 69
213 - Laura Davies (ENG) 74 71 68
215 - Joanna Klatten (FRA) 72 73 70, Pernilla Lindberg (SWE) 68 72 75, Nikki Garrett (AUS) 73 72 70
216 - Carly Booth (SCO) 71 69 76, Felicity Johnson (ENG) 69 75 72
217 - Jodi Ewart (ENG) 73 72 72, Dewi Claire Schreefel (NLD) 73 73 71, Carlota Ciganda (ESP) 74 75 68, Elizabeth Bennett (ENG) 70 73 74, Alison Walshe (USA) 73 71 73
218 - Becky Morgan (WAL) 77 70 71
219 - Amelia Lewis (USA) 75 71 73, Holly Aitchison (ENG) 76 73 70, Sophie Gustafson (SWE) 70 75 74
220 - Caroline Afonso (FRA) 74 75 71, Anais Maggetti (CHE) 75 75 70, Stacey Keating (AUS) 75 74 71, Diana Luna (ITA) 75 76 69, Charley Hull (ENG) 71 76 73, Gwladys Nocera (FRA) 73 73 74, Celine Palomar (FRA) 76 71 73, Miriam Nagl (DEU) 74 72 74, Sophie Giquel-bettan (FRA) 73 74 73, Giulia Sergas (ITA) 72 74 74
221 - Florentyna Parker (ENG) 77 69 75, Anne-Lise Caudal (FRA) 78 69 74, Jade Schaeffer (FRA) 75 75 71, Minea Blomqvist (FIN) 78 73 70, Marianne Skarpnord (NOR) 73 75 73, Meaghan Francella (USA) 74 73 74
222 - Anja Monke (DEU) 70 76 76, Caroline Westrup (SWE) 70 77 75, Linda Wessberg (SWE) 75 71 76, Jennie Lee (USA) 73 73 76, Frances Bondad (AUS) 81 70 71, Margherita Rigon (ITA) 74 72 76, Eleanor Givens (ENG) 77 74 71, Julieta Granada (PAR) 74 75 73
223 - Alison Whitaker (AUS) 74 72 77, Lisa Holm Sorensen (DNK) 78 71 74, Karen Stupples (ENG) 74 75 74, Esther Choe (USA) 74 75 74, Carin Koch (SWE) 75 73 75, Ursula Wikstrom (FIN) 72 76 75
224 - Steffi Kirchmayr (DEU) 75 70 79, Lydia Hall (WAL) 80 69 75, Kylie Walker (SCO) 72 72 80, Stacy Lee Bregman (ZAF) 77 70 77
225 - Caroline Masson (DEU) 74 77 74, Marieke Nivard (NLD) 74 75 76, Klara Spilkova (CZE) 76 73 76, Hannah Burke (ENG) 74 75 76, Rachel Bailey (AUS) 70 76 79
226 - Sahra Hassan (WAL) 76 75 75, Lindsey Wright (AUS) 74 74 78, Beth Allen (USA) 74 73 79
227 - Virginie Lagoutte-clement (FRA) 75 75 77, Stefanie Michl (AUT) 77 71 79
228 - Lucy Williams (ENG) 73 74 81, Line Vedel (DNK) 75 72 81
229 - Connie Chen (ZAF) 74 76 79
231 - Liebelei Lawrence (LUX) 75 76 80
232 - Clare Queen (SCO) 76 75 81