We interviewed Janice Moodie, captain of the Ping Junior Solheim Cup European Team, ahead of the last qualifying events and the team announcement.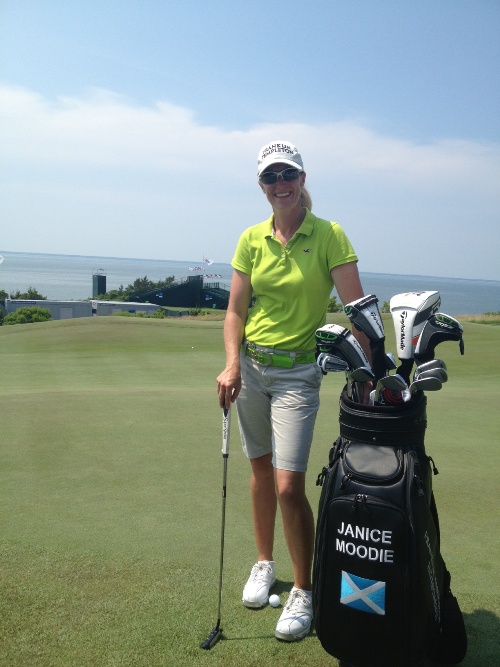 Janice on a recent image during the US Women's Open
Scot Janice Moodie will have her greatest experience ever to captain this year'sEuropan PING Junior Solheim Cup team for her very first time in Colorado in August.
Moodie, has been a successful amateur and professional golfer and played for the European Solheim Cup Team during 3 editions, contributing to 2 of the European successes in 2000 and 2003. Her record on all these years has been 7 wins, 2 matches lost and 2 ties, scoring a total of 8 points.
So, there is no doubt that the Scot can manage the young European team with plenty of good advice. But managing youngsters sometime is not the same as dealing with adults. The last qualifying events are taking place this week in Sweden and England: European Girls Team Championship and the European Ladies Team Championship, respectively, both from 9th to 13th July. The Team announcement will be done once they finish next week.
Some names like Emily Pedersen, from Denmark; Linnea Ström, Sweden; Georgia Hall, from England and Karolin Lampert, from Germany are now on the top of the list. But it will all depend on their performance during this week and rest of players striving to be in Colorado.
To find out here how prepared she is to face the PING Junior Solheim Cup in August, we have asked Janice the following questions:
Where are you based now? What have you been doing lately? Do you still compete on tour?
I am based now in the US, between Orlando and Cleveland.
I have been teaching locally and enjoying seeing people making improvements. I have mostly retired from competitive golf but qualified for the US Open.
We saw you at the last Solheim Cup edition in Ireland. Tell us about your experience there. What was your role exactly during the event? Did you have the chance to follow the PING Junior Solheim Cup? I was in Ireland commentating for SKY television and watched as Europe rallied and won the trophy. I think I had the best seat in the house on number 18 fairway in the booth. It was truly amazing to see the emotions, the determination and the passion to win The Solheim Cup, It brought back many great memories for me with victories in Scotland and Sweden. Unfortunately I did not get to see the juniors action but will try and get some TV coverage for them this year.
Tell us about your experiences during your 2 victories in 2000 and 2003. 2000 Solheim has to go down as one of the best competitive moments of my career, everyone gave a 110% to the end. The weather for sure was in our favour and maybe even the rain delays to our benefit. But to win on my home soil, home country and fly the Scottish flag high was a dream. It gives me chills thinking about it and it was a mere 13 years ago.
2003 was team work and our captain did her job, threw in a couple of odd pairings and pulled it off. The crowds were to be remembered, it was more like a football game than a golf tournament. It was the best atmosphere ever.
Tell us about your experience in 2009, your first defeat. 2009 was also a wonderful memory. We did not win but in our minds we did not lose either. We all gave it our best and just came up short, many of the games were settled on the final few holes. Match play is like that, it is not like stroke play tournaments and a marathon, it is a sprint every 18 holes to the finish line. Our team was great in defeat and I'd say our last night party carried on as always.
Janice and Catriona in 2009 during interviews at the Solheim Cup
Your rookie year, 2000, could you tell us how did you feel and what your fears were like? In 2000 I would say I never had any fears, I only had goals. I knew what I wanted and sought out how to obtain them, practice and hard work paid off.
Explain to us how would you use all these previous experiences as a Solheim Cup player this year to do your best and win the PING Junior Solheim Cup in Colorado. My goal is to get the girls to inspire each other, become a team even if it is just for one week. Have fun, meet new people and experience new things. I am so looking forward to it.
Your experience as captain. Have you ever been in a similar position? What would you expect from a captain to be and do? Tell us your favourite/s Solheim Cup captain/s and the reasons. What positive things would you copy from her when you will captain this year's PING Junior Solheim Cup Team? I have never been a captain but I was the head player of the San Jose State University women's golf team for a few years, me and Vibeke Stensrud.
I think you want to be genuine and credible. There will be leaders in the team and we need to play to our strength. Its about team work and there is no "I" in team and especially our team. Every match and point counts no matter how good or bad you are. My favorite Captain was Alison Nicholas, she got it, was so involved and real. The mighty mouse.
Do you know any of the potential players of the European team like Georgia Hall or Emily Pedersen? I know of the girls as I am obviously taking an interest now but have never met them.
Tell us at least 3 characteristics that a player would have to have to be part of the team The three main things in team competition would be to leave your ego as you walk through the door. We are all in this together and willing to help each other. We are going to create friends and forever lasting memories. We are going to have fun.
Tell us at least 3 characteristics that a captain would have to have to be a good captain. Have you already received any advices from Lotta Neumann (or any other previous captains) to manage the team? I think every captain should be their own person but install some qualities from their experiences. As a captain we need to be patient, listen to our players, and do what is right for the team not always the player. I will never forget how Catrin Nilsmark in 2003 switched up the final days pairing that it totally through the USA team off. It worked.
What would you expect the European team to be? Have you got any idea? I think the European team in going to be a well travelled and well rounded group of young girl athletes. In looking at past players now being LPGA/LET players I cant wait to see the future of Women's golf play in front of me.
We know you are used to manage children, as you are a mother of 2 kids, both boys. Any experience in managing lady youngsters? What's the most difficult job in doing this? Yes, I have 2 boys and they are all boy. I do have a couple of College girl players who I am teaching so I am watching the girls play at an incredible standard. I think patience is key.
From total of 6 editions, we have lost 3 times, tied once and we have never won on US soil. Any idea on how to change all this during the 2013 edition? What do you think the keys are? I think if we look at many of the matches they could have been closer and swung either way. We are probably the under dog but we have nothing to lose, only to gain. We will be focusing on short game and not tiring ourselves our be for game day. We are going to have fun.
The US captain Kathy Whitworth. What can you tell us about her? Have you played with her before? I have only met Kathy at a few tournaments, and never played golf with her. She is a legend and its good for girls to meet her, as I think knowing older and great players is something the younger generation needs to be more aware of.
Tell us what would you expect this event to be this year and how do you imagine it.
I imagine it to be fantastic and to hopefully pull a "W" for the European team. Lets' Go Europe Let's GO!!!!!!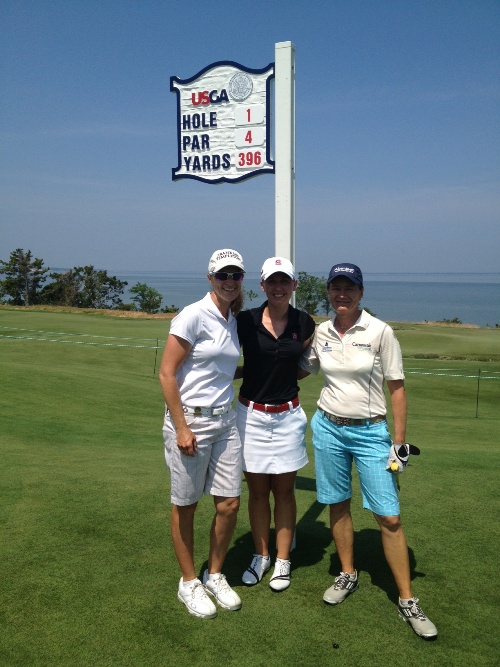 Janice with Catriona and Sally Watson at the US Women's Open
From the Ladies European Tour, good luck to all players.
Looking forward to seeing you all in Colorado next month!