With The Solheim Cup less than a year away, the coming months will be full of new experiences for me. I will share many of the highlights through this Captain's Diary and am really excited to give you a front-row seat to all the preparation involved in the event.
Recently, I had the invaluable opportunity to spend time with my friend and Europe's Ryder Cup captain, Darren Clarke. Walking the fairways, hanging out on the first tee, and experiencing his  team room at Hazeltine  was an important moment in my own captaincy journey  that will culminate next August in Des Moines, Iowa. This was my first Ryder Cup and it was thrilling, from the start of the week to the end of the Sunday singles matches. I was extremely impressed by Darren's grace under the most intense pressure.
Of course the result went against Europe this time around, due to some fantastic golf by the American players. The U.S. got off to a really strong start, building a 4-0 lead in the dramatic first morning of foursomes.
The question many of you may have is "What can the captain do in that situation?" No doubt it's a tough spot because so much of his or her work is done before the first tee shot is hit. After literally years of planning and strategizing,  in many ways all you can do is hope it will be a good week and try to keep the team loose and ready as possible. For most of the last twenty years, it's been Europe's golfers jumping out to a lead, so it's hardly a surprise that America got their turn. It seemed they were very determined to prove  the task force was a major benefit and justify the return of Captain Love to end the losing streak.
I'm very sure that Darren did all he could to win. His attention to detail was impressive, as he utilised cutting-edge data analytics to help build a picture for his players of the specific problems they faced, which in turn informed their strategy. The European team seemed happy in each other's company and bought into the "shoulder to shoulder" vision Darren used to emphasise team spirit.
Hardly an accident, this program was the culmination of the work he put in to get to know all the players during his tenure. That is a priority for me, too. While I know some of the players very well, I'm keenly aware that some of the young stars on the Ladies European Tour don't know me beyond seeing me on television playing some pretty good golf as they were growing up. I am beginning the process of engaging with as many of the top players as possible. To that end, I'll be a regular visitor to the LET and LPGA events over the coming year.
Case in point, I recently hosted a dinner with some of the players during the Evian Championship. It was a fun night, where we talked, laughed and shared stories. There will be more of that sort of thing as we head toward Des Moines next summer.
In the next few months, the players' performance on the course will determine who makes the team. It's been good to see recent LPGA success from Caroline Masson and Carlotta Ciganda, both of whom have won in the last month. We will continue to focus on  the strategies, planning and execution necessary to ensure that when they walk to the first tee on that opening morning of The Solheim Cup, they will be happy, ready for and focused on the  greatest three days of golf they'll ever experience.
Catriona Matthew, vice-captain of The 2017 European Solheim Cup Team (centre) with The Right Honourable Nicola Sturgeon, First Minister of Scotland MSP (left) and Ladies European Tour CEO Ivan Khodabakhsh (right)..
Catriona Matthew MBE has been named by Annika Sörenstam as a vice-captain for The 2017 European Solheim Cup Team at Des Moines Golf and Country Club in Iowa.
The announcement was made at the Aberdeen Asset Management Ladies Scottish Open Leadership Forum on Thursday at The Gailes Hotel on the eve of the championship taking place at Dundonald Links in North Ayrshire.
Matthew is the first European vice-captain to be named for the 2017 team and said: "I'm really delighted to be vice-captain to Annika. It's a great honour as she's probably the best woman golfer there's ever been and I'm really looking forward to it."
Matthew has played for Europe in eight Solheim Cups, earning 19 points from 33 matches. She and Annika competed on four European teams together, in 1998, 2003, 2005 and 2007 and formed a successful partnership winning a combined total of two foursomes and one four-ball match together.
The 46-year-old from North Berwick, who counts the 2009 Ricoh Women's British Open among her 10 international career titles, could potentially make her ninth Solheim Cup appearance as a playing vice-captain when the next contest is staged in the United States, on August 14-20, 2017. She is in a rich vein of form and next month will represent Team GB at the Rio 2016 Olympic Games, along with Charley Hull, her 2013 four-ball partner.
Matthew, who famously holed the winning putt in The 2003 Solheim Cup at Barsebäck Golf and Country Club in Sweden and secured the half point to win the Cup outright for Europe at Colorado Golf Club in 2013, continued: "It's a long way off still but it's a possibility. I'll see how I'm playing next year and go from there.
"I love The Solheim Cup and it's my favourite week each time it comes round every two years. It's just so different for a golfer to be in a team environment where you've got your teammates and the captains and vice-captains. Golf is such an individual sport that it just makes it great fun. I've got great memories from it."
Annika commented: "Catriona is a long-time friend and well-respected veteran of the game. As a major winner who has competed in numerous Solheim Cups, I'm very excited to welcome her to our team. She will be a tremendous asset, thanks not only to her experience playing the biggest events, but also because she is currently active on both the LPGA and the LET."
Ladies European Tour CEO Ivan Khodabakhsh said: "We are delighted that Annika has named Catriona Matthew as a vice-captain as her enormous Solheim Cup experience will add tremendously to the European team. With Annika and Catriona working together for a common cause, we are confident that Europe can achieve a second away victory when the competition is played next year in Iowa."
Commenting on the decision at the Aberdeen Asset Management Ladies Scottish Open Leadership Forum, First Minister Nicola Sturgeon said: "Having played in the Solheim Cup eight times, it is wonderful that a Scot – Catriona Matthew – will be Vice Captain at the 2017 event when it takes place at Des Moines in Iowa next August. I am sure I speak on behalf of everyone in Scotland and wish her and the team the best of luck."
The 2017 Solheim Cup will be the 15th staging of the biennial, transatlantic team match play tournament, which features the best 12 European players from the Ladies European Tour and the best 12 players from the United States on the LPGA. The United States team leads the series 9-5, having won by a score of 14 ½ – 13 ½ at The 2015 Solheim Cup at Golf Club St. Leon-Rot in Germany, while in 2013 at Colorado Golf Club, the Europeans achieved an historic first away win by a record 18-10 margin.
For the 16th match, The 2019 Solheim Cup will be returning to Scotland, the Home of Golf and the scene of Europe's first two victories, at Dalmahoy in 1993 and at Loch Lomond in 2000 respectively. The 2019 event will be played at the world famous PGA Centenary Course at The Gleneagles Hotel in Perthshire, Host Venue for the successful 2014 Ryder Cup and the 2018 European Championships.
·         Greatest female golfer of her generation to lead Europe for the first time
·         Unanimous decision by nine-strong selection panel
·         Has featured in 11 Solheim Cups – eight as a player, three as a vice captain
PALM SPRINGS, CALIFORNIA (March 30, 2016) – Annika Sörenstam, one of the most successful golfers in history, has been announced as the European captain for The 2017 Solheim Cup at Des Moines Golf and Country Club in West Des Moines, Iowa, from August 14-20, 2017.
The eight-time Solheim Cup player, who also served as a vice captain in the last three contests, takes the reigns for the 15th Solheim Cup with the aim of leading Europe to a sixth victory in the biennial team match-play competition.
The 89-time tournament winner and 10-time major champion earned 24 points from her eight appearances as a player and holds several Solheim Cup records for Europe, including the joint most matches won on 22 with Dame Laura Davies and most points scored in foursomes competition  with 11 ½. She played on two winning sides, at Loch Lomond in 2000 and at Barsebäck in 2003 and was instrumental in two further victories as a vice captain at Killeen Castle in 2011 and in Colorado in 2013 under Alison Nicholas and Liselotte Neumann respectively.
"It's an absolute honor to be named the 2017 European Solheim Cup team captain," said Annika. "The Solheim Cup was a very important component of my playing career and I've enjoyed working as a vice captain the past three Cups to prepare for this opportunity.  The event has really grown over the last decade and we look forward to representing Europe in Des Moines, a tremendous golf market."
Annika was unanimously chosen by a nine-strong selection panel consisting of the three most recent European Solheim Cup captains – Alison Nicholas, Liselotte Neumann and Carin Koch – as well as the Ladies European Tour (LET) Chairwoman Helena Alterby Nordstrom, Chief Executive Officer Ivan Khodabakhsh, Chairwoman of the Players' Council Rebecca Hudson, one additional LET Board Member, LET Director of Events & European Solheim Cup Director Dae Ramirez and John Clark as a representative of the Solheim family.
Annika Sorenstam of Sweden poses with the Solheim Cup with John Solheim the Chairman and CEO of Ping (l) and Ivan Khodabakhsh the CEO of the Ladies European Tour
"We are extremely pleased to have Annika leading our team for the next Solheim Cup match in Iowa," said Ladies European Tour CEO Ivan Khodabakhsh. "When you think about her pedigree as the best player of our generation, her personal accomplishments and Solheim Cup experience, she has an exceptionally strong understanding of the attributes required to be an inspirational, respected and successful captain of the European Team."
PING Chairman & CEO John Solheim commented: "Annika's experience in the Solheim Cup and steely determination are the perfect combination to lead the European team next year at Des Moines Golf and Country Club. I've known her since her rookie year on Tour and watched in awe at Moon Valley Country Club as she became the only LPGA player in history to shoot 59. She's been a role model for the game's current stars, many of whom will now draw inspiration from her as they seek to recapture the Solheim Cup."
Annika Sorenstam of Sweden talks to the media watched by John Solheim the Chairman and CEO of Ping and Ivan Khodabakhsh the CEO of the Ladies European Tour during the press conference to announce her as the 2017 European Solheim Cup Captain held during the ANA Inspiration at Mission Hills Country Club.
Annika made her Solheim Cup debut in 1994 at the Greenbrier in West Virginia where she earned one point in the foursomes. Two years later, she amassed four points at St Pierre in Wales in 1996 and then another three in 1998 at Muirfield Village, Ohio. She contributed two points to Europe's 14½ – 11½ victory at Loch Lomond in Scotland in 2000 and then 3½ points at Interlachen in Minneapolis in 2002.
One of her most memorable Solheim Cup performances came a year later when she contributed four points in a 17½ – 10½ victory in front of passionate Swedish galleries on home soil at Barsebäck. She went on to win four points at Crooked Stick in Indiana before making her final appearance at Halmstad in Sweden in 2007, scoring another 2½ points in European blue before stepping away from competitive play.
Annika returned to the Solheim Cup fold four years  later as a vice captain under Nicholas at Killeen Castle in Ireland when Europe defeated the United States by 15-13 for their first win in eight years. She was also a vice captain under Neumann in 2013 when Europe earned their first win in the United States with a score of 18-10 in Colorado, the eight point margin of victory being a record in the competition. She gained further experience as part of the backroom team under Koch at St. Leon-Rot in Germany in 2015, when Europe lost by 14½ – 13½, the closest score in Solheim Cup history.
She becomes the ninth European Captain following Mickey Walker, Pia Nilsson, Dale Reid, Catrin Nilsmark, Helen Alfredsson, Nicholas, Neumann and Koch.  She and her 12-woman team will work to regain the Cup from the United States next summer, when Juli Inkster returns to lead the U.S. Team.
Inkster becomes fourth two-time American captain; will lead Team USA in Des Moines in 2017
DES MOINES, IOWA, December 18, 2015– After leading the U.S. Solheim Cup Team to the largest come-from-behind victory in the event's history, LPGA and World Golf Halls of Fame member Juli Inkster announced today she will return as captain when the biennial team match-play competition heads to Des Moines, Iowa in the summer of 2017.
The nine-time U.S.  Solheim Cup Team competitor was enthusiastically welcomed as the 2017 U.S. Team captain today at an energized press conference in downtown Des Moines.  Inkster was the surprise plot twist at the gathering of city officials, local leaders, golf fans and media billed as a "Holiday Solheim Cup Celebration."  Inkster emerged from the audience to join two of her 2015 team members, Gerina Piller and Brittany Lang who'd been on stage fielding questions about Team USA's comeback 2015 win and what is expected to be one of the most highly attended Solheim Cup competitions yet in 2017.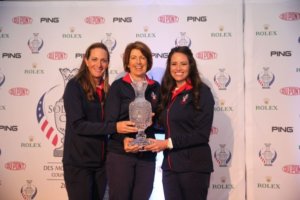 "So many people have asked 'would you do it again?'" said Inkster.  "I have had a lot of exciting and memorable highlights during my time on Tour but leading that team of 12 women was one of the biggest thrills of my entire golf career. So the answer was easy.  And I wanted to have this announced as soon as I could because keeping a secret isn't one of my strengths. I'm thrilled by the challenge of defending the Cup on home soil next summer and can't wait to put on a show in Des Moines."
Inkster will now try to lead Team USA to victory at Des Moines Golf & Country Club in West Des Moines, Iowa on Aug. 18-20, 2017.  The U.S. squad will look to defend on its home turf after suffering their first ever defeat on American soil in 2013 at Colorado Golf Club in Parker, Colorado. The United States last won on U.S. soil in 2009 at Rich Harvest Farms outside Chicago, Illinois.
Inkster becomes just the fourth two-time captain to lead the Americans, joining Kathy Whitworth (1990 & 1992), Judy Rankin (1996 & 1998) and Patty Sheehan (2002 & 2003). The 31-time LPGA Tour winner and seven-time major champion holds several notable Solheim Cup records including being the all-time leader in points earned by a U.S. player (18.5) and points earned in singles competition (seven).
Inkster is also the only player to be an active competitor and serve as an assistant captain during the same Solheim Cup in 2011. That year she earned the distinction of being the oldest player to compete on a Solheim Cup Team at the age of 51 years, 2 months and 30 days. Inkster boasts an impressive 15-12-7 overall record in her nine Solheim Cup appearances.
"I am pleased that Juli will be returning as captain of the United States Solheim Cup team in 2017," said John Solheim, PING Chairman and CEO.  "Juli's passion for the event and skill as the U.S. captain in 2015 were on full display in her team's phenomenal come-from-behind victory in Germany.  Her experience as a nine-time competitor and winning captain, along with her love and respect for the game, will be invaluable to the American team of 12 as it seeks to retain the cup in Des Moines."
"Captain Inkster has created a strong, close-knit spirit for the U.S. Team, and I'm excited that she will get the opportunity to defend the Solheim Cup on our home soil," said LPGA Commissioner Michael Whan. "Her Hall-of-Fame career will be remembered for many incredible accomplishments, but I believe her Solheim Cup win in Germany will rank high among the achievements that she values most!"
The U.S. leads Europe 9-5 all-time in Solheim Cup competition following their historic comeback win in September at St. Leon-Rot Golf Club in Germany. The Americans trailed 10-6 heading into Sunday's singles matches and overcame the largest deficit in the event's history, winning 8 ½ points in the final session. Team USA won by a score of 14½ to 13½, the closest score in the history of the Cup.
"Our team's performance in Germany was so inspiring for all of us and was prime example of the current state of American women's golf," said Inkster. "I enjoyed the role so much and had such a fun time that it was an easy decision for me to do it again. We have a lot of work ahead to make the experience in Des Moines just as successful and I'm looking forward to the challenge of defending the Cup on home soil."
About The Solheim Cup
The Solheim Cup combines the tradition and prestige of the game of golf with passion for one's country. This biennial, trans-Atlantic team match-play competition features the best U.S.-born players from the Ladies Professional Golf Association (LPGA) Tour and the best European members from the Ladies European Tour (LET).
The Solheim Cup is named in honor of Karsten Solheim, the founder of Karsten Manufacturing Corporation, which makes PING golf equipment. In 1990, the Solheim family, in conjunction with the LPGA and the LET, developed the concept and became the sponsor for The Solheim Cup, professional golf's international match-play competition for women. Held every two years, the event has grown into the most prestigious international women's professional golf team event. The Solheim Cup is the most highly coveted trophy in women's profes­sional golf team competition; some of the most memorable moments in women's golf have happened during Solheim Cups, and berths on the U.S. and European teams are highly coveted by players from both organizations.
The 2017 Solheim Cup will be held at Des Moines Golf & Country Club in West Des Moines, Iowa.  Team USA enters the competition holding the Cup after an historic and dramatic come-from-behind victory in Germany. They will look to defend its home turf after suffering their first ever home loss on American soil in 2013 at Colorado Golf Club. The American squad holds a 9-5 lead in the series, which began in 1990.
Global Partners for the event are PING, Rolex and DuPont. For more information about The Solheim Cup and updated standings for each team, log on to www.solheimcup.com and www.lpga.com and follow on Twitter (@Solheim_Cup) and Instagram (@solheim_cup).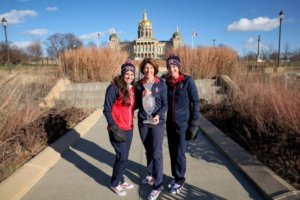 About Des Moines Golf & Country Club
Des Moines Golf and Country Club was founded in 1897, but has resided in four different locations.  Since 1966, the Club has occupied 475 acres on the western edge of West Des Moines.  It is the leading full-service country club in Des Moines and is among the most innovative clubs in the Midwest.  Both 18-hole courses are original Pete Dye designs and consistently appear in the top 10 Golf Digest state rankings.  In 1999, the Club hosted the record setting Twentieth United States Senior Open Championship on a composite of the two courses.  The same routing will be used for the 2017 Solheim Cup.