By The 2017 European Solheim Cup Captain, Annika
What a weekend of sports! The ability to bring people together through the power of sports never ceases to amaze me. They offer a shared experience that engages, entertains and inspires no matter your athletic ability. There's a reason companies invest billions of dollars on marketing, exposure and advertising to be associated with these special events.
For an appetizer, we had the Waste Management Open in Arizona. This event has become a staple for its entertainment value, uniquely encouraging players and caddies to "let their hair down" for a moment.  The par-3 16th hole is the place to be and has become a bucket list experience for many golf fans. With its enclosed, stadium-like set up, it's the closest thing one sees to a big NFL or college football game atmosphere in professional golf. I have little doubt it's quite nerve-wracking for players to have the polite applause — or murmurs of disapproval — normally associated with golf replaced by raucous cheers and loud boos. It really is a spectacle as evidenced by attendance records once again being shattered and makes you wonder, what can they do next? Is this the future of golf and audience expectations?
And then as our main course, we had the Super Bowl, the NFL's annual championship game. Many Americans consider "Super Bowl Sunday" an unofficial national holiday. Year after year, it's the U.S.'s most-watched TV broadcast, sometimes registering more than 100 million viewers. Globally, that puts it up there with events like the Olympics and soccer's UEFA C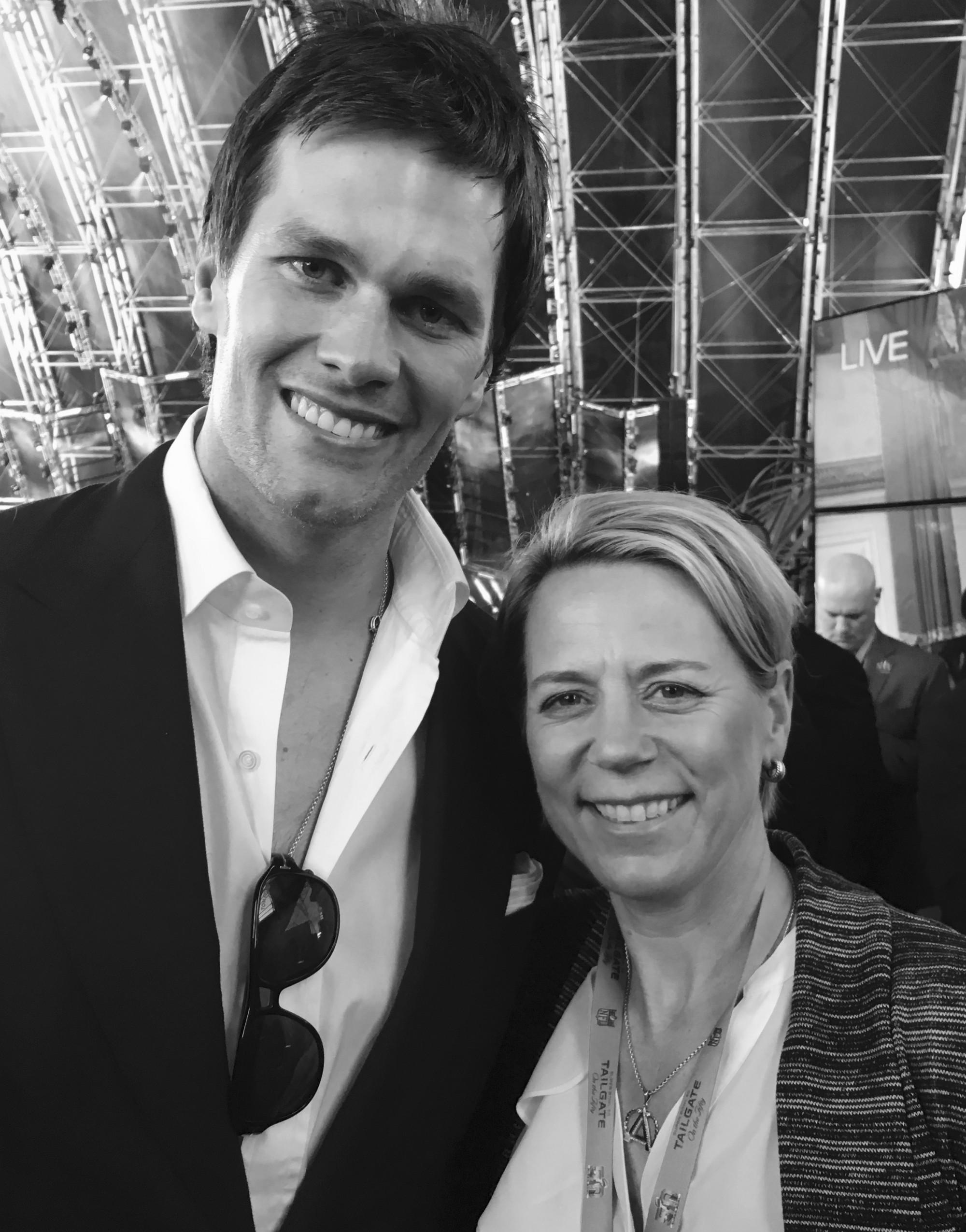 hampions League final. Staggering numbers, to say the least.
This year saw the Atlanta Falcons battle the New England Patriots, both teams stacked with all-stars. The most decorated player of them all, New England's quarterback Tom Brady (pictured with Annika to the right), is considered by many the G.O.A.T. (Greatest of All Time). He didn't disappoint. Down 28-3 late in the 3rd quarter, he told his teammates to "just do your
job" and "trust the process." Like any great leader, he believed in his team and calmly guided it, slowly showing that the impossible was, indeed, possible. The G.O.A.T. delivered the greatest comeback in Super Bowl history, as the Patriots showed remarkable poise, refusing to quit when everything seemed to be going wrong. The team's inner belief, created through months of work in practice and meetings and the work-out sessions, shone through when it was needed the most.
As I have shared with you in the past, my Dad told me years ago, "There are no short cuts to success." New England's comeback made me recall what sports have given my family and me. The life-changing moments and memories I enjoyed through the years were cultivated by an incredible amount of hard work and sacrifices behind the scenes. But it's the moments of indescribable joy, like what the Patriots experienced as viewers watched around the globe, that make those sacrifices all worthwhile and sports so compelling as the ultimate shared experience. It also reminded me how sports help all of us to dream, and that dreams do come true.